安土祝祭金管合奏団・オルガンプロジェクト2012
「世界 に響け祈りの音楽」 2012年5月27日(日)
大阪・京都・三重・兵庫・滋賀の近畿二府三県から集まった20人の金管楽器奏者が信長由来の滋賀県安土町の文芸セミナリヨに結集し、コントラバスとパイプオルガンとともに非公開コンサートを開きました。
指揮は前田郷司氏。当日集まった36,700円の募金は「難民を助ける会」へ送られました。
以下は、滋賀報知新聞による記事です。ぜひご参照ください。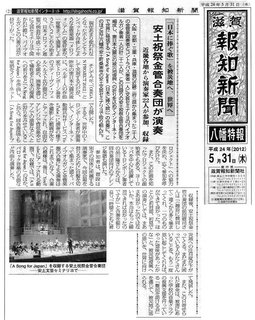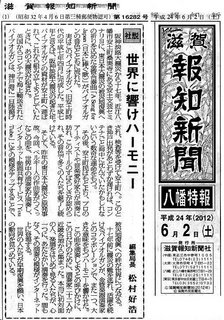 20 amateur brass players from the Kansai area gathered together in the Bungei Seminariyo Hall in Azuchi city (Shiga) on the 27th of May, 2012. They had a private concert with a contrabass player and an organist and performed A Song For Japan directed by Satoshi Maeda. Collected 36,700 YEN was donated to the Association of Aid and Relief, Japan.
*****
Azuchi (Anzucci) is one of the famous historical places in Japan. Azuchi was the de facto capital of Japan from 1576 to 1592. At that time, Jesuit missionaries opened the "Seminario" in Azuchi. Japanese people got the knowledge about Europe, and played European musical instruments such as organ, viol (viola da gamba), ancient piano there.
Today, Azuchi is a quiet and small countryside town. In 1994, "Azuchi Bungei Seminario Music Hall" was built in this small town. And in 1995, a great pipe organ was installed in the hall. The Pipe organ was unloaded from the ship at the Kobe Port, and transported to Azuchi after the import examination.
We remember a big earthquake that has resulted in great damage to the Hanshin area in 1995. More than 6,000 people died, and more than 40,000 people were injured. Many buildings have collapsed, and the life line facility was destroyed. At that time the Kobe Port got a lot of big damage. If the earthquake had occurred a little more later, the Seminario's pipe organ might have sunk in the Kobe Port.
-------------------------------------------------
There are more than 2,000 public music halls in Japan, but there are only 40 pipe organs in public hall. (Of course, many churches and music schools have pipe organs.) Many of the pipe organs of public hall were purchased during the bubble economy. But some of the pipe organs are not enough played music. Unfortunately, some of them have become decoration of the music hall.
The pipe organ is a very expensive musical instrument for small town. Azuchi people have continued efforts to put the soul in this pipe organ. Now, as a result, the activities of the Seminario's pipe organ are highly valued. Music Hall that is inherited the name of "Seminario" has been loved by people of Azuchi.
-------------------------------------------------
We (Azuchi Festival Brass Ensemble) planned collaboration of brass ensemble and pipe organ in the Seminario Music Hall. Our organist learned in the Seminario organ class. She is a multi-player at both of brass and keyboard instruments. Other brass players and contrabass player were collected in a public offering. Some players are members of JAMELLA (Japan Mellophone Alliance) ,Nikkan Brass Ensemble and Osaka Hornist Meeting.
All music pieces had been arranged for this collaboration. We chose "A Song for Japan" for one of the music pieces. The music number was composed by trombonist Steven Verhelst in Belgium. The "A Song for Japan" project leader, Takashi Shinagawa in Germany received our plan, and provided to us a special musical arrangement of "A Song for Japan". There were various kinds of arrangements of "A Song for Japan", but no arrange for an organ and brass ensemble yet.
May 27, 2012 (Sunday), was a very nice sunny day. 20 brass players, one contrabass player, one organist, total 22 amateurs musician formed The Azuchi Festival Brass Ensemble only for the day. They gathered in Azuchi Town from 5 prefectures in Kinki, Osaka, Kyoto, Mie, Hyogo, and Shiga.
Total times given to us were only four hours. Half of members were the first meeting. It was the first experience that all brass players co-played with pipe organ. The Seminario hall has very long reverberation time. It is good for listening pipe organ sound at audience sheets. However, on the stage, the organ player and brass players could not hear sounds clearly each other. Although we had planned to play without a conductor, it was impossible in this situation. After the rehearsal that was shrouded in thick sound fog during two hours, five music pieces have been recorded.
"Jesu, Joy of Man's Desiring"
musuc by Johann Sebastian Bach
arranged for organ and brass by Satoshi Maeda
"Sleepers Awake!"
music by Johann Sebastian Bach
arranged for organ and brass by Satoshi Maeda
"Mellophonium Voluntary"
original music by Jeremiah Clarke
arranged for organ and brass by Satoshi Maeda
"Meistersinger von Nurunberg Prelude to Act 1 (short version)"
music by Richard Wagner
arranged for organ and brass by Satoshi Maeda
"A Song for Japan"
music by Steven Verhelst
arranged for organ and brass
by Takashi Shinagawa, Atsuko Oura, Satoshi Maeda
-------------------------------------------------
The performance of "A Song for Japan" in the Azuchi Seminario Music Hall has a great significance. One year or more have passed since the East Japan Earthquake, and the memory of disaster is fading. However, many peoples in the affected areas are still in great difficulty. If our performance wake up people's faded memories, our activity will have a meaning.
We never forget that peoples all over the world gave prayer to the victims of the East Japan Earthquake and reconstruction.
Azuchi (Anzucci) Festival Brass Ensemble
http://sunlake.org/music/organproject/index.htm